Brows on Focus with Benefit Cosmetics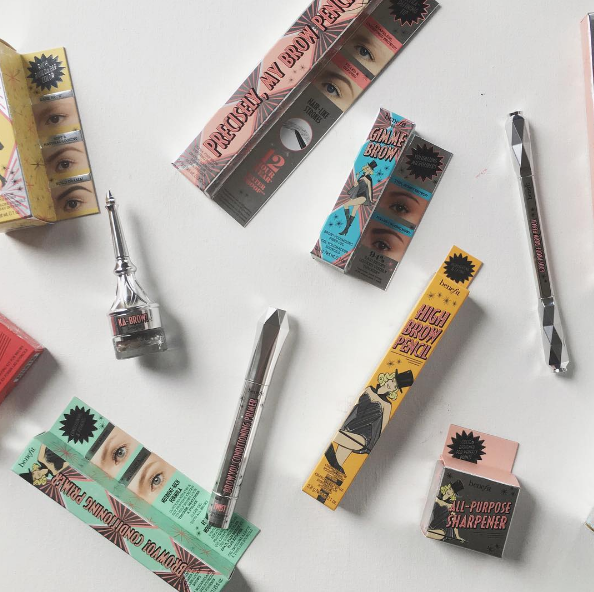 Safe to say Benefit Cosmetics is the home of brows. In fact, they have been transforming brows since 1976. Now they have 1800 BrowBar beauty lounges in 49 countries making Benefit a world leader in the brow industry. I struggle with my brows. I like them dark and defined, but they are usually an afterthought. Three years ago Benefit embarked on a mission to help out gals like me and solve our dilemma's with a complete range of brow products to meet your needs in a fun and foolproof way.
The range has NINE new or reinvented products that help make you "your own brow expert". Let me run through them all.
Gimme Brow - I have talked about Gimme brow before. It's the all in one product to volumize, tame and tint brows in one wave. Originally they had light and dark however they have added a third shade. Shade #3 a medium shade which I welcome.
Goof Proof Brow Pencil - As a novice in the brow department, I am in love with this pencil. It is easy to use to fill and shape my brows giving them depth. It has a 12-hour wear, and the tip is always sharp.
If you're looking for a more defined tip then the Precisely, My Brow Pencil is for you. I start with this guy and move onto the Goof Proof Brow Pencil. It's really about how my morning is shaping up!
One product I've never been a fan of but am now obsessed with is High Brow. High Brow and High Brow Glow is that highlight that goes under the arches for brighter, boosted eyes. It wasn't until the benebabe applied it that I fell in love. Head in, ask them, and you will see what I mean.
Browvo! Conditioning Primer is your new daily. It works to condition and prime, so you pop it on first thing before you apply any of the other Benefit Brow products. It contains Keratin and soy proteins to help brows look thicker, healthier and fuller.
Brow Zings is the taming and shaping kit for brows. It's the be all end all kit for taming and shaping and comes in 6 shades. You know the one.
Ready, Set, Brow! - This is the setting gel, and it has a 24-hour wear! NOW - I haven't tried this product, but it is on the wish list.
Ka-Brow! - This cream gel brow colour with brush starts at the amazing packaging! The packaging includes the brush hidden in the cap. This is the product that takes those brows from natural to dramatic all with 24-hour wear.
I have been having a play with this product, 3D- Browtones, This product applies subtle highlights for a soft contrast. I have been using it when I hit the gym just for something extra.
Not sure where to start? Naturally, Benefit has starter kits based on your needs.
I've been playing with Benefit for a while now along with a range of other brands. What I like about Benefit is that it is a complete range of products. I am using five of the products right now and mixing and matching them depending on where I am going. They are easy to use, and I love that.